Building Height Attribute is an enhancement to, and forms part of, OS MasterMap Topography Layer. It provides a set of height attributes with a buildings theme within OS MasterMap Topography Layer. It has further been enhanced with the inclusion of tanks, chimney stacks and glasshouses.
The product has been developed in response to customer demand for height information for buildings and select structures. It can be used to make simple 3D visualisations of buildings and structures and can be used to assist a range of analytical applications across both public and commercial sectors.
Building Height Attribute can be used to enhance the information obtained from OS MasterMap Topography Layer in a range of applications. It can also be integrated with other Ordnance Survey products such as OS Terrain® 5 andOS MasterMap Imagery Layer.
Energy and infrastructure
Building Height Attribute can be used to model heat loss, regulate requirements including high-rise gas safety, help with smart meter roll-out and analyse line of sight for small cell planning. It can also help to manage overhead cable routing and assist in planning and maintaining water pressure to high-rise properties.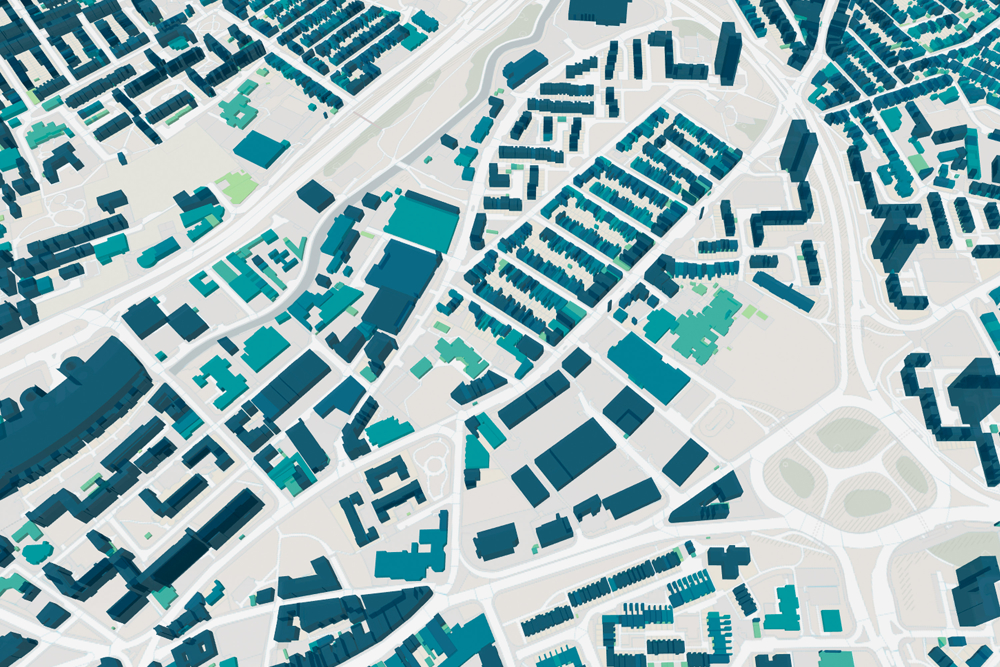 Land and property
This enhancement to OS MasterMap Topography Layer can also aid architects to visualise building designs early in the planning phase. It also models the impact of development projects rapidly and can help in emergency planning and risk assessment, by allowing the appropriate resources to be deployed more rapidly.
Government
The data can also be used by the government for modelling air pollution, siting solar panels, visualising planning applications in the context of surrounding buildings and also for urban density. Emergency services can also use it to know when and where to deploy specialist equipment.
Specifications
Technical specification
| Key Features | What this product offers |
| --- | --- |
| Format | CSV |
| Update frequency | Every six months |
| Coverage | Great Britain |
| Supply | Members of mapping agreements can download this from the members' area. Partners and direct customers should contact their account manager. |
Licensing
OS MasterMap Topography Layer - Building Height Attribute (BHA) is available under the following Licences:
Explore our data
You're welcome to try out this data for free under our Data Exploration Licence.
Internal business use
When using OS data in your own business, you need our Framework Contract (Direct Customers) together with a data contract.
Creating products or services
To use this data commercially in your own products and services, or to distribute it, you will need to sign up to our Framework Contract (Partners) and a relevant defined use contract. This will vary depending on what you're going to do with the data.